List of companies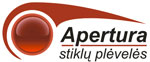 Apertura, UAB
J. Kubiliaus g. 23 (Žirmūnai), 09108 Vilnius

(+370) 52723644
www.apertura.lt
Email
Company contacts
Director
Aleksandras Kovalenko
Bank account
LT10 7044 0600 0129 9039
Apertura, UAB
The APERTURA company has been established as premier window tinting and security film experts for over 18 years. As an authorized distributor for
U.S. window film manufacturers LLumar, Global we supply and install a wide range of window film products including solar control, safety, security, privacy, decorative and frosted window films. Whatever your requirement from Frosted effect logos to full digital print services, we can help. Also we specialize in PPF, vehicle graphics and full car wrapping with matt black, color, chrome, 3D carbon vinyl. All our installations are backed by manufacturer warranties.
With a wealth of experience in the window film industry there is no better company to fulfill your requirements from smart cars to office blocks APERTURA can provide the solution you require.

more...
Search words
Film for glass
,
glass films
,
glass film
,
film for windows
,
lumar
,
LLUMAR
,
American film
,
window films
,
protective film
,
protective films, glass protection, glass tightening, safety glass, anti-bandit film, anti-vandal film, toning of glasses, glass toning, mirror film, mirror films, reflecting films, UV filter, light filter, thermal film, thermal film, glass decoration, patterned glass, ornamented glass, matted glass, colored glass, stained glass type films, matte film, matted films, windows decoration, blinds graphics, photo wallpapers, digital printing, wide format print, adhesive films, net, on tilt, textile, rolettes, wallpapers
more...
TradeMarks


Photos