Vlatausa, UAB
J. Šimkaus g. 31, Garliava, 53206 Kauno r.
(+370) 61137344
www.vlatausa.com
Work hours
I-V 8.00-16.00
Director
Vladimiras Paulikas
Legal information
Bank account
LT11 7044 0600 0371 3157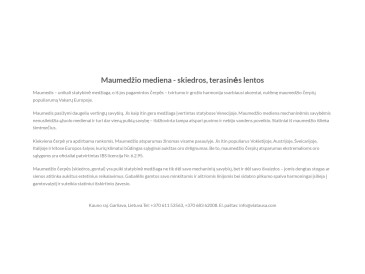 the production of split and sawn tiles of Siberian larch.

Thanks to high worker qualification and good production quality our products are sold to the biggest companies in Germany, Austria and Italy which use the wooden tiles for covering of roofs and walls.
Timber shingles have exceptional visual appeal, they also reflect a close bond with nature and are in harmony with the landscape. However, in terms of their function and resistance to the effects of weather, timber shingles are also an entirely contemporary alternative to the more conventional types of roofing and wall cladding. Roof shingles are mainly split shingles. The timber is split along its grain and remains undamaged along the entire length of the shingle.
more...
"Vlatausa" Ltd. was established in 2001 in Kaunas / Lithuania. From the very beginning the main direction of our activity was and stays
Prekės, paslaugos
Photos